Big League Dreams Can Come True!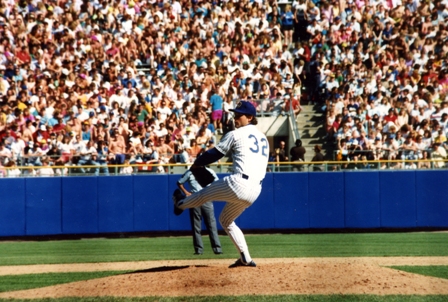 How Do You Spell Relief?
(Pitching to a Sold Out crowd at Old Milwaukee County Stadium, Milwaukee Wisconsin)
Chuck Crim knows what it's like to have a dream...to work hard...and to acheive that dream. He made it to the top of the game and helped to establish the role of "Set-Up Man" (Named Best in the Major Leagues 1988, 1989 & 1990 by Sporting News Magazine). He knows how hard it was to get there & he knows how hard it was to stay there. Chuck has an exceptional gift for teaching pitching and mentoring players of all ages. As a 6-foot right-hander, nothing was handed to him. He had to work for everything he accomplished, overcoming the sterotypical heigth he lacked. Chuck is enthusiastic about sharing his insights and instruction with you to help you become the best pitcher you can possibly be, or the best pitching coach you could ever imagine.
Chuck is proud to offer his extensive experience and instruction to players with a passion for the game, through his Innovative Intensive Online Pitching Instruction & Interactive Website: www.ultimatepitchingcoach.com. Each month members receive an email link to a new private online session of pitching instruction with Coach Crim.
Crim Says Aloha to Hawaii
(Pitching his farewell performance with the University of Hawaii Rainbows, 1982 at Aloha Stadium, Hawaii)
Chuck Crim grew up in Southern California, following in his mother's baseball footsteps...(she was an exceptional fast-pitch ballplayer in her day!). Chuck was a California All-Star and led his Thousand Oaks High School Lancers to the C.I.F. playoffs.
Though he was drafted as the 2nd pick of the Chicago Cubs in 1979, he opted for a full-scholarship to the University of Hawaii as a starting pitcher. The Aloha Spirit blessed Chuck, where he led the University of Hawaii Rainbow Warriors to the College World Series in 1980, with his rookie 15-0 record. As a freshman, Chuck was an honored member of the 1980 USA All-Star Team (Olympic equivalent prior to baseball in the Olympic competitions), as well as receiving NCAA All-American Honors.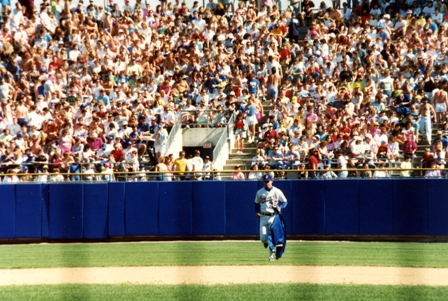 A Familiar Sight...
(Chuck runs in from the bullpen in 1988 at Old County Stadium in Milwaukee for the Brewers, just one of 75+ appearances that season)
Chuck signed to play Professional Baseball in 1982 with the Milwaukee Brewers and spent 5 years developing in their minor league system, leading leagues in complete games and winning both the Texas League and the Pacific Coast League Championships. He was called up to the Big Leagues in 1987, making the team out of Spring Training in a Cinderella story of success. He holds two of the Brewer victories in a record setting 1987 season opener with 13 wins and 0 losses. Chuck led the American League in Pitching Appearances in 1988 and 1989, nearly doing so again in 1990 (hindered by a torn ribcage muscle). He was rated "TOP Set-Up Man" by Sporting News 1988-1990 and remains on the Brewer's All-Time Leaders List.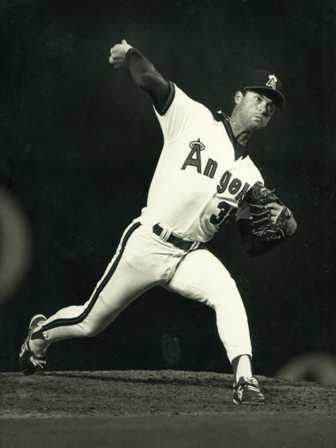 California Here I Come!
(As a native Californian, being traded to the California Angels was almost a dream come true...)
In the winter of 1991, after 5 very successful years at the Major League level with the Brewers, just as he was coming up for free agency, Chuck was traded to the California Angels. He had done so well that he played himself out of the small market finances of the Brewers, who couldn't afford to negotiate against other more financially secure organziations, so rather than losing the investment in Chuck, the Brewers opted for a trade to the California Angels, and received two players in return.
Chuck enjoyed the prospect of coming back to his home state and having the opportunity to play in front of family and friends, which he did through the 1993 season. It was a season of difficult circumstances, many surrounding Chuck's battle with a nagging shoulder injury. The season was further hampered by an unfortunate bus accident that occurred as the Angels traveled from New York to Baltimore. Chuck narrowly escaped the accident himself, changing buses at the last minute, while those on bus #1 eventually fell victim to a driver falling asleep at the wheel.
Several players and coaches had minor to moderate injuries from the accident, some were more severe as in the case of manager Buck Rogers who required surgery. After the bus accident, with assistant coach Marcel Lachman at the helm in Buck Rogers absence, Chuck found some success. However, with the return of Rogers, Chuck found himself sitting on the bench for weeks at a time, and the writing was on the wall. He had to face it, his arm was showing the signs of abuse from the past seasons of 70 or more pitching appearances per year.
Coincidentally, upon returning to Anaheim after a stellar performance out of the bullpen against the Mariners, Buck Rodgers handed Chuck his pink slip. It was a blessing in disquise for Chuck, who could go home to rest and rehabilitate his shoulder, getting prepared for whatever the next phase of his career might be.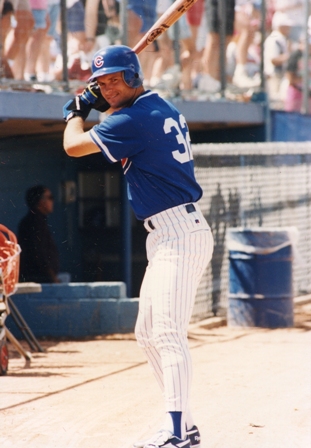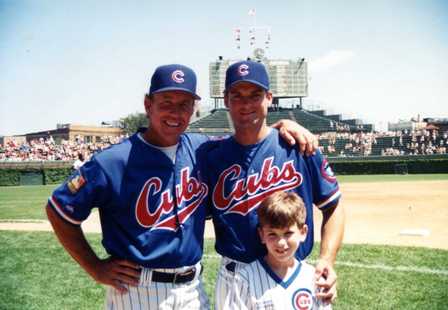 Chicago is My Kind of Town!
(Getting to pick up a bat and hit after all those years in the American League was one of the perks of playing in the National League for the Cubs. Getting to play for Good Friend & Manager Tom Trebelhorn once again, was another)
In 1994 Chuck signed with America's "Sweetheart" team, the Chicago Cubs, playing once again for his Brewers manager and baseball guru, Tom Trebelhorn. It was an amazing season, with a complete rehabilitation of his shoulder injury. It was astounding to play in legendary Wrigley Field with such tremendous support from the community, and to get to know Harry Carey on a daily basis! Everything looked as though it couldn't be more perfect....then came the Baseball Strike. Having always been a "team player Chuck supported his union and unfortunately ended up a free-agent casualty of the Baseball Strike. Chuck made the difficult decision to retire from baseball and follow another lifelong dream...to fish the B.A.S.S. professional tournament circuit.
(A passionate pursuit can quickly turn into a pain in the neck if you aren't careful how you work it! After spending more time on the road then when he played ball, Chuck turned his focus back to where his heart truly was...baseball and more specifically, pitching)
In 1996 Chuck became the pitching director for SHO-ME Baseball Camp, a legendary instructional camp in Branson Missouri. Working with up to 80 kids per week, Chuck honed his coaching and analysis skills, as well as deepening his own understanding of the intricacies of the game. At SHO-ME he coached with such greats as Gaylord Perry, Steve Garvey, and Ozzie Smith, and remained there for 6 years before moving back to Southern California.
Chuck's 13 years in professional baseball was a dream come true, but one that was only acheived through incredibly hard work and determination. He learned what it takes to succeed and honed his skills, playing with...talking to...and studying Hall of Famers such as Robin Yount and Paul Molitor, pitching with success against such greats as Cal Ripkin Jr. and Mark McGuire.
Chuck retired from the position of Head Varsity Baseball Coach at Canyon High School in Canyon Country, California, in 2005, where for 3 years he coached 70+ players including his son, Cody. Chuck spent two summers mentoring players through a charity organization called Players of Promise, and continues to help players with a desire to take their game to the next level with private pitching instruction.
In the fall of 2006, another one of Chuck's dreams came true when he was hired by Logan White, Assistant General Manager with the Los Angeles Dodgers, to be a Major League Scout in Southern California. Not only is Chuck glad to be back in professional baseball, more importantly, he is grateful for the opportunity to share the chance of a lifetime with talented hard-working players of the future, who dream of playing in the Big Leagues someday. It is Chuck's hope to eventurally make it back to the Big Leagues as a bullpen or pitching coach where he feels he can make the most of his experience, but until then, he continues to pass on his knowledge and insight to players of the future. "It is an honor to be able to give back whatever I can, to the game that has given so much to me and my family".