Ultimate Pitching Coach Wall of Fame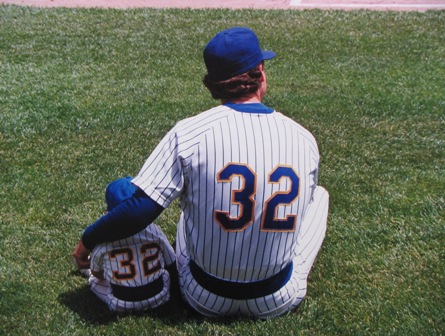 The Crim Rookies
Chuck & Cody (age 9 months) on field baseline at Old County Stadium, Milwaukee, Wisconsin, after the Brewers Father/Son Game, 1987.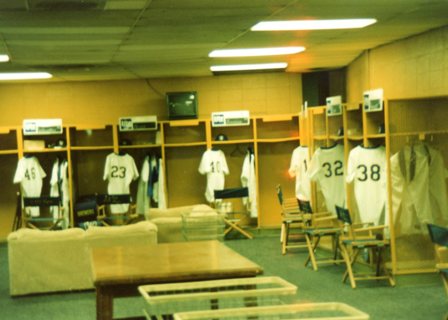 Some memories are alive forever, even long after the building is gone. This is the Brewers locker room at Old County Stadium, Milwaukee Wisconsin....Now nothing but rubble on the earth, yet still Golden Memories in Mind!
From One Great Baseball Generation to Another.....
Tommy Lasorda & Chuck Crim at the Tommy Lasorda Dodger Elite Games 2007.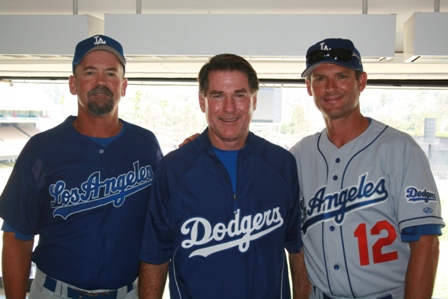 Capturing an Idol!
Chuck Crim with Elite Games Asst. Coach, Don Meinhold (High School Teammate, Catcher, & Best Friend) in the Dodger Stadium Press Box with their childhood baseball idol, Steve Garvey. Not to rub it in....but they beat Steve's team at the Tommy Lasorda Elite Games, 2008.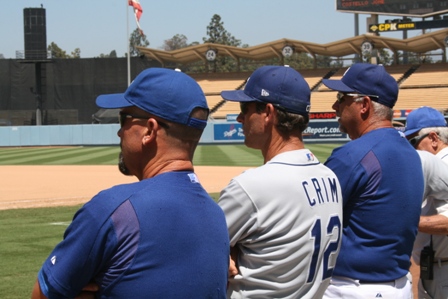 Watching Over the Future of Dodger Baseball
Coaching at the Tommy Lasorda Elite Games, 2008, Chuck and Asst. Coach, Don Meinhold gauge the Young Talent on the field at Dodger Stadium.
Cubs Father/Son Game 1994
The Crim family was very fortunate to be a part of the Cubs Family and the Amazing City of Chicago for one season, having the opportunity to personally get to know one of Baseball's Treasured Legends & Chicago Icon, Harry Carey. Baseball still misses you greatly, Harry, and so do we!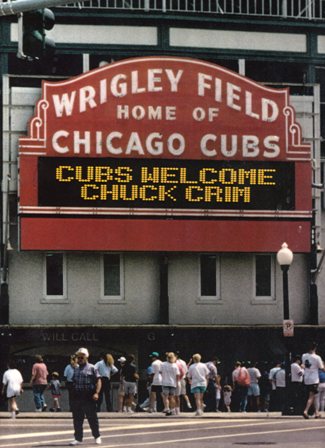 Things got a little bit Sweeter for the Cubs when Chuck Crim arrived in 1994.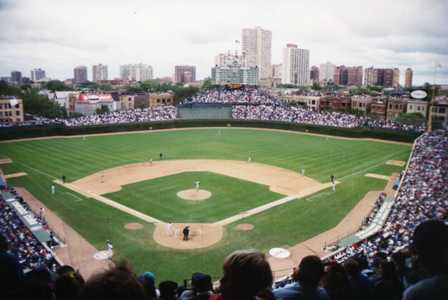 Wrigley Field
Chuck pitches on a muggy summer's day in Chicago, 1994, at Baseball's Sweetheart Stadium, Wrigley Field.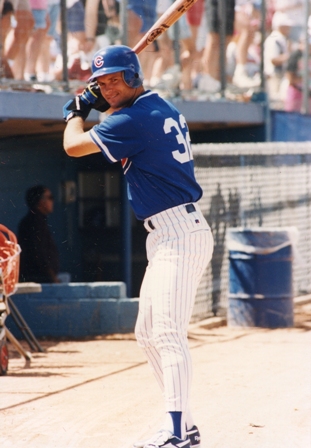 You gotta love the National League!
At least, Chuck did. He waited more than 15 years to get a bat back in his hand....and finally did with the Cubs!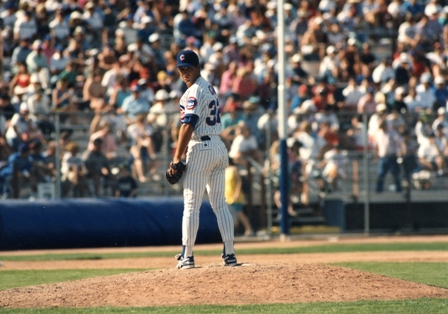 How Do You Spell Relief?
Chuck pitching in relief for the Cubs at Hohokam Park in Mesa Arizona, in front of a sold-out crowd, 1994.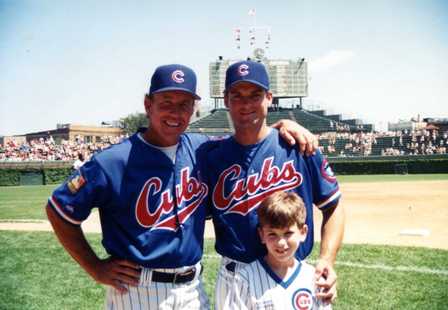 Manager, Mentor & Friend
Tom Trebelhorn has been more than a great manager & coach. Following a very successful minor league relationship, Treb gave Chuck his first Major League opportunity with the Milwaukee Brewers in 1987, and believed in Chuck again many years later when he gave Chuck a spot on the roster with the Chicago Cubs in 1994.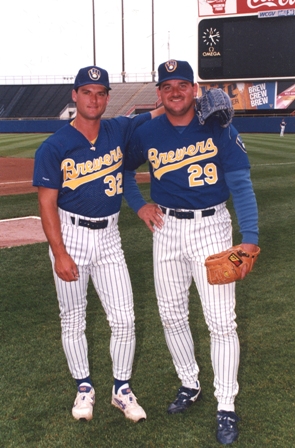 People Worth Remembering....
Chuck with good friend and Milwaukee Brewer Minor league & Major League Teammate, Chris Bosio, who threw a stellar no-hitter for the Seattle Mariners in 1993.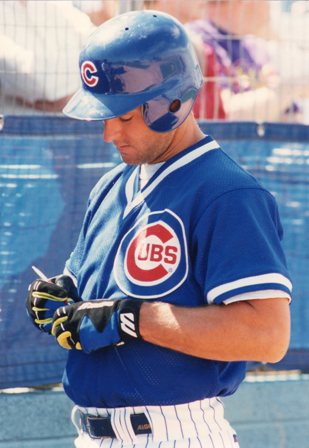 Chuck Crim signs for Fans.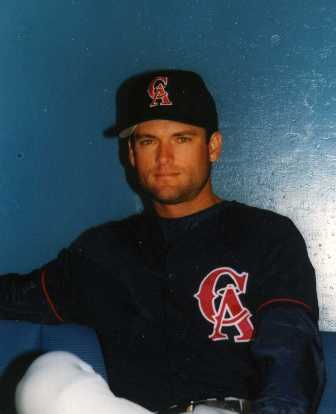 Taking a Break in the Dugout, 1993.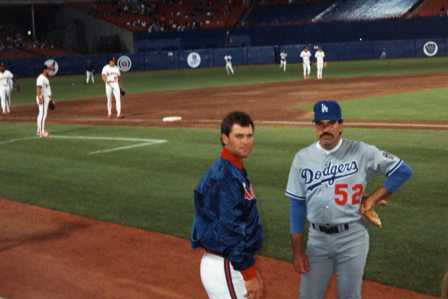 Chuck with Good Friend, Tim Crews, former minor league teammate, roommate, and bass fishing prodigy, while they played together in the Milwaukee Brewers Organization. Tragically, Tim died in a boating accident in 1994. We love you and miss you very much, Timmy.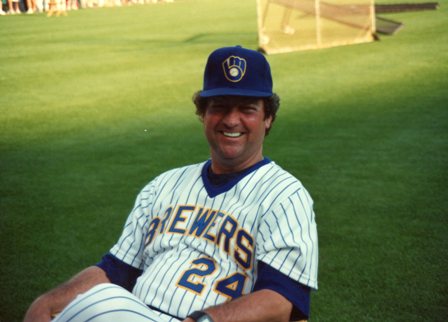 Chuck Hartenstein
Chuck Hartenstein was Chuck's Pitching Coach while he played for the Milwaukee Brewers. Not only was he a Great Pitching Coach, he was a mentor and a friend....and still is!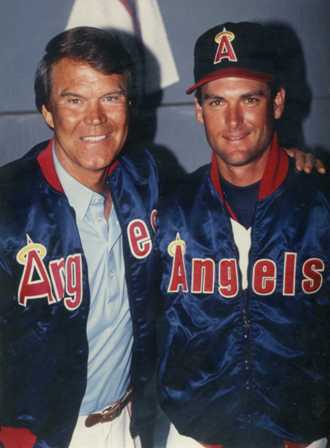 Glen Campbell & Chuck Crim, 1992
I may not be able to sing, but I know people who can!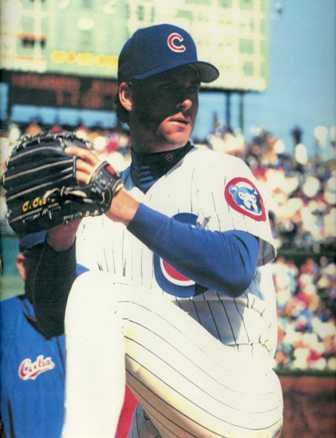 America's Sweetheart Team Finds a Gem!
Chuck pitches at Wrigley Field in Chicago, 1994.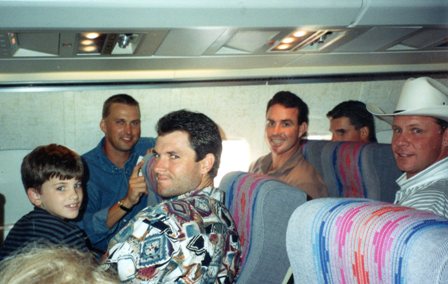 Making Good Use of a Plane Flight!
1994 Chicago Cubs' Mark Grace, Mike Morgan, Steve Buchele, & Chuck Crim, play a game of cards to help the time pass....Cody Crim is along for the ride as the team Celebrates the Annual Family Trip.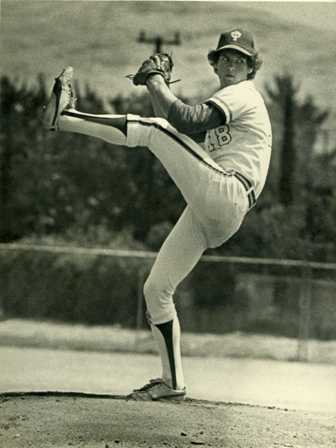 Thousand Oaks High School Lancers 1978
Chuck rears back and gets ready to Fire!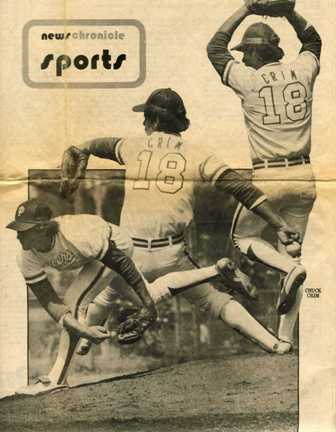 Chuck pitches for the Thousand Oaks High School Lancers, 1979.
Crim's Perfect Year
Being a Freshman didn't stop Chuck from having a 15-0 Stellar Season with the University of Hawaii Rainbow Warriors, leading them to the College World Series in 1980.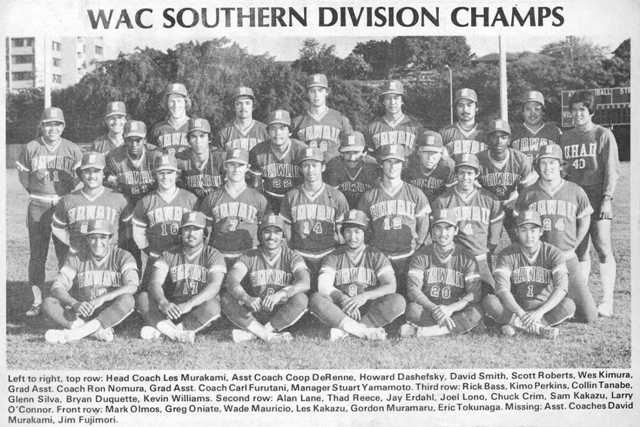 University of Hawaii Rainbow Warriors 1980 WAC Champions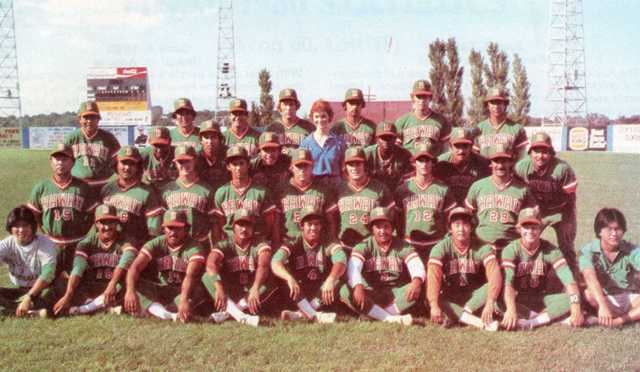 The 1980 University of Hawaii Rainbow Warriors College World Series; Runners' Up, Omaha, Nebraska.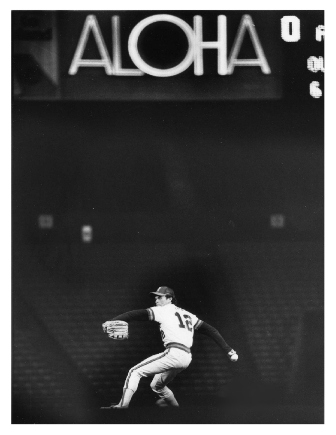 Aloha Stadium 1982
Chuck pitches in his Farewell Performance as a University of Hawaii Rainbow Warrior.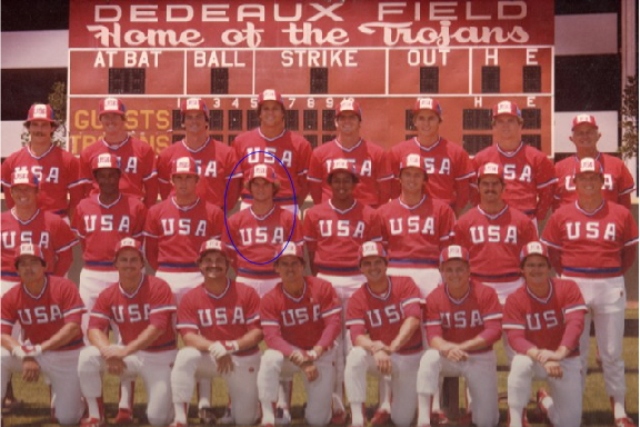 Chuck was the only freshman selected to play on the 1980 USA Team, managed by Rod Dedeaux, Head coach at USC. The USA Team was the Olympic team equivalent prior to its inception in the '84 games.
Chuck's First Baseball Card
Pitching for the Beloit Brewers, Midwest League A-ball, 1983. Chuck was an All-Star & Led the League in Complete Games.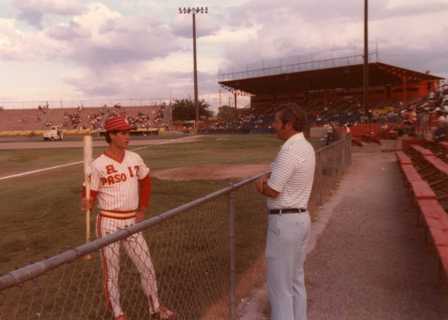 El Paso Diablos
There was no minor-league baseball more fun than playing with the AA Diablos (Brewers) at the Dudley Dome in El Paso, Texas. Chuck is seen here with his first and BEST COACH....his Dad, Bob Crim.
On Fire Diablo!
Chuck was a Texas League All-Star and made a career for himself as a Relief Pitcher with an unheard of 1.50 ERA in the "Dudley Dome" with 55 game appearances and 90 innings pitched with a 7-4 win loss record.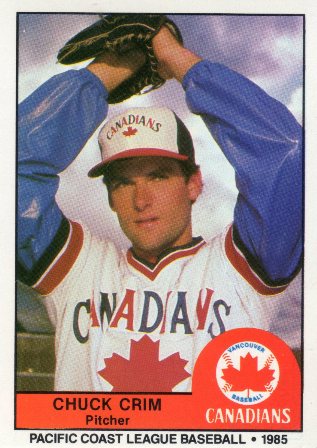 Not a Canuck by birth....but by Draft!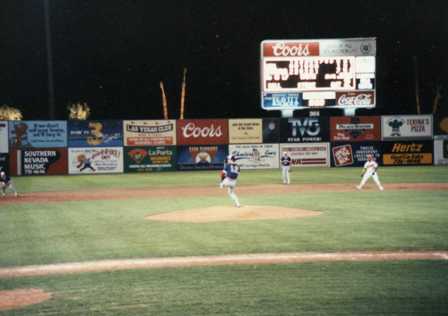 Nat Bailey Stadium
Chuck pitches at Nat Bailey Stadium in Vancouver, Canada for the AAA-ball Milwaukee Brewers. They went on to win the Championship.

Out of this Country...But Not Forgotton!
The Pacific Coast League Champions.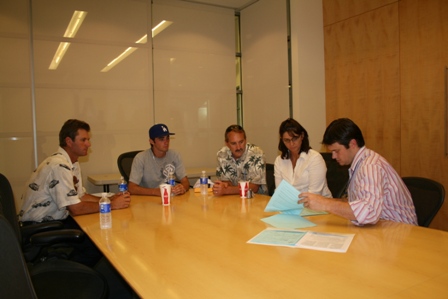 Pitcher, Matt Magill (Royal HS, Simi Valley, CA) signs his contract to play for the Los Angeles Dodgers Organization, along with scout Chuck Crim, his proud parents, Pete & Valarie, and Dodger Scouting Manager, Trey Magnuson, going over the fine print. Matt showed everyone that his Future is Bright with a Great Rookie Season closing out Vero Beach in 2008. Magill was voted Pitcher of the Year in 2009 for his Rookie Ball team, the Ogden Raptors.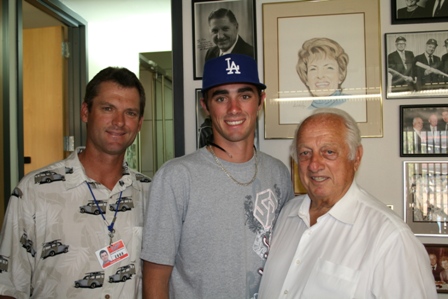 2008 in Tommy Lasorda's office as he congratulates Matt Magill on his new contract with the Dodger's Organization.